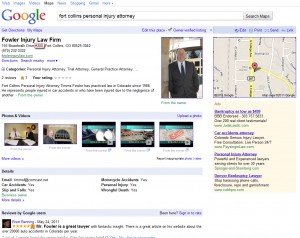 If you did not yet read this new statistic, it is official: over 50% of all internet searches are now done on a mobile device. We offer our attorneys mobile versions of their websites as part of our monthly SEO packages.
We have discovered an interesting quirk in the Google places system: On the "map it" feature (which allows potential clients to retrieve navigation driving directions from within GPS apps on their phones), instead of always putting your business's name, Google sometimes puts a marker with the name of any number of tenants who share the same street address as you. Google places' mobile site seems to have a hard time discerning suite numbers when they are presented as "Suite" or "Ste" within the text. The problem created is that if you share a building with many other businesses, someone trying to find you may have the right directions, but be confused as to why a dentist's name is showing up in the directions rather than your own.
We have found a fix though. If you are starting a mobile strategy or already have one in place, updating your Google places page with a # sign instead of "Suite" or "Ste." seems to solve the problem. You also need to put the address and # on the same line.
For example, if your previous Google Places address was:
Awesome Law Firm 2333 Main Street Suite 230 Awesome Town, AA 80333
Change it to:
Awesome Law Firm 2333 Main Street # 230 Awesome Town, AA 80333
We have also found that switching the word "Suite" to a # sign and putting it all on the first address line has fixed "This address not supported" errors that we sometimes find when setting up a new attorney's Google Places page in general.
A Google Places page and understanding Google Local search returns for attorneys is ABSOLUTELY critical to improving client generation and getting your website within the first few listings of the first page of Google faster! If you have an SEO strategy, do not fail to claim and update your Google Places page.
If you need help with this or any other matter, please feel free to reach out to Law Father for a FREE legal website SEO evaluation and consultation. (800) 325-7715.
23

votes

Google Places, Mobile Websites, and Office Suite Numbers - Lawyer SEO