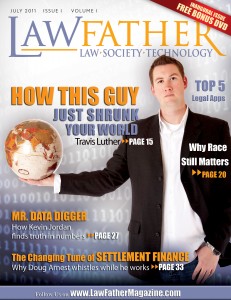 This month Law Father announced plans for the launch of a new quarterly magazine bearing the company's name. Set to premier in July 2011, Law Father president Travis Luther said Law Father Magazine would cover both the societal and technological concerns of attorneys. "We wanted a way to synthesize the interests of our clients,"  Luther said. "I would characterize Law Father lawyers as theoretically progressive, concerned with the potential of their work to affect society, and interested in how the use of technology can improve their law firms."
Though Luther admits that publishing is a foreign area for the company, he strongly believes that his graduate background in sociology and the company's reputation as a leader in legal technology will leave them with no shortage of content or topics to explore. Luther says he is most excited about the magazine for its potential as a platform for frank discussions about the recursive relationship between society and the law.
Luther revealed that the inspiration for Law Father Magazine came while he was assisting with a continuing legal education (CLE) seminar in Colorado. An attendee asked one of the speakers if he had any suggestions on how to handle his concerns that race and racial stereotyping may have a negative impact on his ability to argue successfully on behalf of his African-American client. "It was more than one of those moments where a light bulb goes off; it was an explosion," Luther says. "I just realized we have spent a lot of time reviewing statutes and perfecting the best way to strike an expert witness, but we have not made time to discuss race, gender, class and other social issues, and how they relate to the law." Luther insists that these issues are not just limited to law firm's clients, but to attorneys themselves. "My wife is an attorney. I was in a conference room with her when a male attorney who did not know her asked her to get him coffee. He assumed because she was a young woman in a law office that she was a paralegal. I suspect there would be subtle consequences for these kinds of interactions if they happened during the course of mediation. So creating a magazine to host these kinds of discussions is not just for the benefit of law firm clients, but for the benefit of our entire legal community."
"With the magazine I knew I had found an opportunity to do something truly important," Luther states. "Entrepreneurs usually start out doing something they love for money. Usually the love part is weeded out to make more room for the parts of the business that pay the bills. But Law Father Magazine is this amazing opportunity for me to balance what is good for my business and what is good for the legal community and beyond."
Law Father will mail out its free inaugural issue to select lawyers on July 25, 2011. The featured article will be a discussion on the use of storytelling in the courtroom to minimize juror bias related to race. It will also include a free DVD of a focus group Law Father recently conducted with consumers exploring their perceptions of attorney advertising.
A yearly subscription to Law Father will cost $59.00 per year. An online version of the magazine will be launched at the same time as the print version and be available at http://www.LawFatherMagazine.com. For more information, to learn about advertising opportunities, to make topic suggestions, or to subscribe, please email magazine@lawfather.net or visit http://www.LawFatherMagazine.com.
2

votes

Law Father Launching Society and Technology Magazine